vMemo is an application that allows you to record voice-notes!
vMemo is your virtual Notepad! But it is not one of the usual notepads you can find out there, where you write your memos down. With vMemo you can speak your notes! Just click the Record-button and start speaking! Feel free to modify the input source, sample rate, sample size, channels, compression and input level of the recordings. The voice-memos are stored in a special folder, but you can easily access them in a Memo List. The voice-notes are date-stamped , so you don't have to search for what you recorded last friday. Just double-click any note to listen to it, it can't be easier! Download vMemo today, and follow the one-time setup instructions and you can start being lazy.
Less time for writing, more time for life.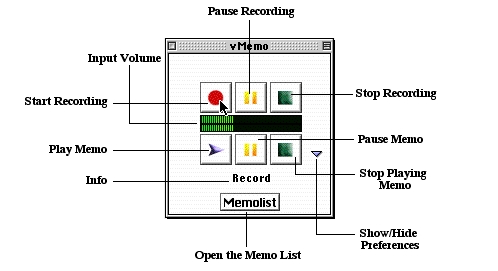 download here!

Purchase now!
Features:
*simple installation
*easy recording
*you can use many different microphones( including the standard built-in microphone)
*recorded memos contain date/time to make finding information easy
*select the sample size and sample rate
*modify the number of channels
* save disk-space with MAC3 or MAC6 compression
*customizable sound input level
*auto gain control
*input volume indicator
and much more...