Monitorer X is a small extension that records every single keystroke in the background and saves it into a textfile. It also can take screenshots so you can view what other people were doing on your computer.
Monitorer records everything you write with your keyboard and saves it. That can be very useful if you just wrote a very long text and your computer crashs. After restarting you will find the saved log-file in your preferences folder where you can copy your lost text! This application can also be used to check if any unauthorized person used your computer or you use it to view what your employees "produced" the whole day. The new feature, the screen capturing, allows you to view everything , for more powerful monitoring or as a new backup option for graphic designers. New in version 1.3 is the Instant Screenshot feature which allows you to select your own keywords that will activate the Screenshot engine everytime these words are typed, so you will have screenshots of the things that are really of interest for you! Since version 1.4 you can even select your typing-speed, which makes the Instant Screenshots even more accurate.
In the new version of Monitorer you can choose between 7 different compression qualities!* Now Monitorer can save the screenshots in jpg.-format, so your screenshots take much less disk space! It's your choice if you want very large high-quality screenshots or very small low-quality screenshots!
*only supported in the old version Monitorer X 1.1 , for MacOS X 10.1.x and lower
Built for OS X 10.2 (Jaguar)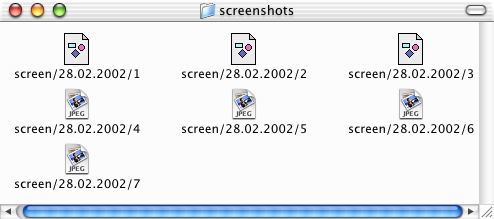 MacOS X 10.2 version: download here!

MacOS X 10.0.x to 10.1.x version: download here!

Purchase now!
How can you organize all your screenshot and keystroke logs? With Monitorer Manager! This little freeware application is a good enhancement to Monitorer X that gives you easy and comfortable access to your logs.
Download the Monitorer Manager here!


Features:
*OS X 10.2 ready

*Invisible in the dock
*Invisible in the Force Quit Menu
*Invisible at startup
*application runs in the background
*neutral icon
*it creates a new log file everytime you start up your computer
*log-file contains date/time to make finding information easy
*easy installation (just select it as one of your start-up items)
*you can choose the time between savings
*screen-capturing
* saving in JPEG-format²
* 7 different compression qualities (from lossless to minimum quality)²
* easy access to the logs with the free Monitorer Manager

* Instant Screenshot feature

*Option to select typing-speed for more accuracy
and much more...
²only supported in Monitorer X 1.1 under OS X 10.1.x and lower